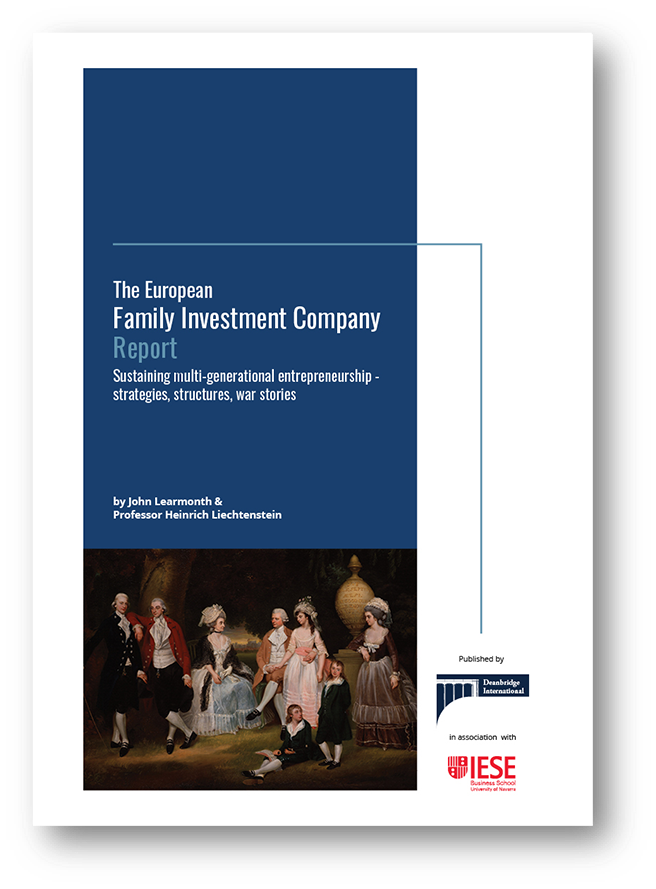 How do we survive and prosper across the generations? How do we stay entrepreneurial? How do we communicate with and benchmark against other families and see what they are actually doing in practice?


These are some of the key questions asked by every family business and their advisors. 
Now, after: 
analysing 350+ European family companies
using 100+ named examples
conducting in-depth conversations with families
presenting 12 practices of successful family groups

 
we have some answers and a potential blueprint for multi-generational entrepreneurship.
Project leaders:
John Learmonth & Professor Heinrich Liechtenstein

THE PROJECT
Successful family businesses survive and prosper for centuries.  
While there is no single model for this type of multi-generational entrepreneurship, by examining their structures and strategies we can begin to identify what makes them flourish while others fail.
Join us and our community of collaborating Family Investment Companies as we work to successfully transition into the next generation. 
In over 20 years of work with and for family businesses we kept coming across a certain type of enterprise. These are families who have evolved, often long ago, beyond the founder's heritage business and who are now actively managing a vibrant portfolio of companies and assets.
Some might be seen as 'family corporations' that diversified into new businesses and sectors. Some had sold the heritage business and reinvested. Some had set up specific structures separate from the heritage business to invest in new areas and sustain entrepreneurship in the family. Some had been portfolio investors from the start. Others had been established by more than one family, while other families had multiple enterprises.
Despite travelling these different routes, the businesses established by these families have some key attributes in common. They are structured and run as companies. They are active investors and managers of a range of companies and assets. They draw heavily on their family's heritage and history to help frame their response to current change and future challenges. And their ultimate goal is to perpetuate the family, its values and its business.
We call these enterprises European Family Investment Companies (FICs)
We define them as:
 'A European (EU + EFTA) family-owned or controlled company actively investing directly in and managing a portfolio of businesses and assets.'
Now, after the first ever deep dive into the family and business world surrounding European FICs, we are offering our findings and insights, as well as other benefits, to a growing community of family businesses and their close advisors.
THE RESULT:
A community of European
Family Investment
Companies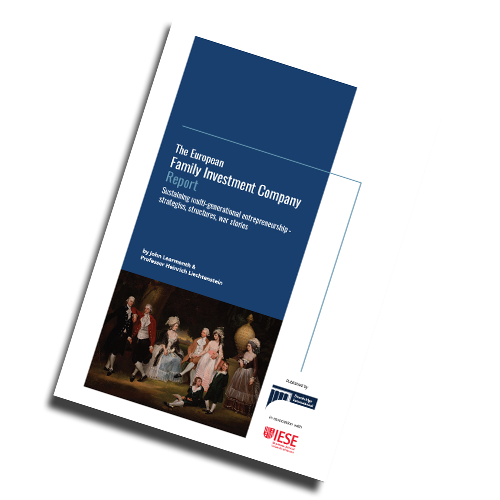 Unique database
At the core of the project is our unique, proprietorial database of over 350 European FICs, backed by detailed cases and hundreds of examples of real-life, named FICs.
Real life examples
From this database and real-life examples we have extracted intelligence and present insightful learning benefits ready for immediate consideration by family businesses.
Faciltated networking
Via Virtual Conversations, Symposia, personal introductions and bespoke meetings, members of the community can meet and exchange with their peers.

Our Report is the culmination of over three years of research, analysis, discussion and writing by a highly credible and expert team backed by a leading international business school. We spent hundreds of hours talking with families and researching their businesses located across Europe, and beyond.
Benefit-heavy intelligence & learning
The European Family Investment Company Report (the Report) analyses a sample of over 350 European FICs, delivered by a 140+ page A4 book with 40 original Figures.
To present real-life experience and 'war stories', the Report also contains four detailed Conversations with named multi-generational FICs in Germany, Finland, Spain and the UK, one listed and three privately held.
In addition, to illuminate findings further, over 100 FICs are cited by name.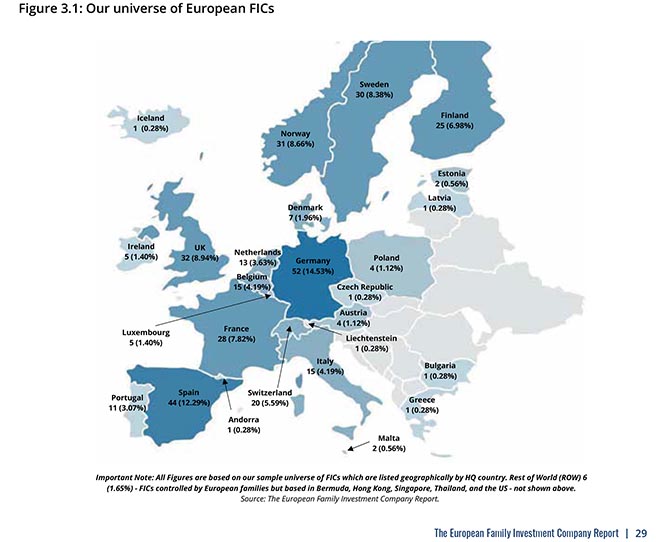 Top-line findings from the Report include:
Universe

Our FIC universe is spread across 26 European countries. A small number with European heritage are also headquartered outside Europe. About 10% of our FICs are listed.
Identitification

FICs identify themselves as professional, corporate, family-controlled. They are active, long-term and value-based investors and owners, driven by entrepreneurship, responsibility and tradition to sustain multi-generational family businesses.
Heritage

Heritage is important. Two-thirds of the sample still retain their heritage business. Of those who have exited their heritage business, half are still active in the same or similar sector. Some families have always been FICs. Other mono-sector families are re-structuring as FICs.
Family

Half the sample is in the 2nd or 3rd family generation. Three FICs are 11th generation and older. Families employ different equity structures and governance strategies to control listed FICs. FICs, both listed and private, prefer family Chairmen but non-family CEOs. Some FICs are owned by more than one family and some families own more than one FIC.
Size

In terms of size, the average FIC has total assets of €5.8 billion. We list the ten largest private FICs and the ten largest listed FICs. Average FIC leverage is just over 50%.
Openness

Openness to the public and other stakeholders was calculated for each FIC according to seven key 'openness elements'. We discuss by name the 22 FICs who top score with seven.
Investment strategies

To test FIC entrepreneurship their investment strategies in three 'new' areas was examined – Disruptech, Sustainable and Impact. Disruptech was most popular followed by Sustainable. Very few FICs are Impact investors. Most FICs invest directly. FICs use 'Disruptech Support Units' and investment arms in Disruptech. The most popular Sustainable investment areas are identified.
Most sections conclude with suggested 'Standout' learning and intelligence. In addition, the Report closes with 'Twelve take-aways – the standout Standouts.'
To unlock full value from The Report and in an unique break from the traditional delivery of research information, our membership confers access to a personal Briefing with one of the Editors.
Members can take advantage of this one-to-one conversation to take a deeper dive into topics of their choosing. In this way value will be added, tailored to each member's needs.
It is likely that even after reading the Report and benefitting from the Briefing, will continue to have questions about our findings and want to discuss our insights. To maximise value for family businesses, the publisher will be available for reasonable continuing email dialogue during the membership term.
As part of the subscription package, community members can take advantage of practical, facilitated networking in a number of discreet, private formats. They will meet other FICs at our regular Virtual Conversations, to discuss current issues of concern with their peers. They will also have the ability to propose to us specific topics they wish to raise with members. We are also willing to make direct, personal introductions to other members of the community and others (subject to willingness).
Maximising practical value for family businesses
The Report complemented by The Briefing and The Networking will help community members unlock maximum practical value from our findings and insights.
Please note, this Package is only available to bone fide family businesses. Preference will be given to families and professionals known by our team or introduced to us by trusted sources. Acceptance of subscription applications is at our discretion.
I really like the approach and structure of the Report – the real-life family histories and standouts blend in very well with its data and analysis's.
Simone Møkster
Managing Director, Family Business Norway; 2nd generation family business owner; member of the Polaris Committee, FBN International.
The European Family Investment Company Report is a great initiative and addresses a topic of interest to more family businesses than one would think. The Report is very well documented, with a lot of valuable information and analysis. Moreover, associated activities, such as News Briefings and Virtual Conversations, organised by Deanbridge are adding value by nurturing exchanges between FICs.
Professor Christine Blondel
INSEAD, France; non-executive Director, D'leteren, Belgium.
The named examples in the Report about what other families are actually doing in practice, allow us to benchmark and give us comfort we're doing the right thing.
Alexander Scott
Chairman and 4th generation family shareholder, Applerigg, UK; Treasurer, FBN International.
I am very pleased to support The European Family Investment company Report which contains much value for family businesses seeking an entrepreneurial and sustainable future.
Alfonso Libano Daurella
Co-Vice Chairman and 3rd generation family shareholder, Cobega, Spain; Chair of the Polaris Committee and member of the Ambassadors' Circle, FBN International; Circle of Friends, European Family Businesses.
John Learmonth and Heinrich Liechtenstein are opening up a knowledge gap – this Report is recommended to all entrepreneurial families who do not want to put all their eggs in one basket.
Dr Rena Haftlmeier-Seiffert
Managing Director, EQUA Stiftung, Germany.
'The Report's unique knowledge and insights, presented in a most practical and readable way, have helped us see what other families are doing – like all family businesses we are constantly evolving and have, I think, a duty to educate ourselves. We also find of real, additional value the opportunities Deanbridge has given us to connect directly with other family investment companies, such as by participating in their Virtual Conversations, for networking and learning in a relaxed setting.'
Johannes Gullichsen
Chairman of the Board of Directors and 5th generation family shareholder, Antti Ahlström Perilliset, Finland.
THE BENEFITS
Family businesses need this learning and intelligence, especially in times of crisis
Despite the current, extremely challenging business environment, the Report is attracting increasing support from FICs in Europe and around the world who recognise its importance and value as they plan for their future.
Examples of why family businesses are subscribing:
Benchmarking – sense that they are doing the right thing but know they can always learn from others in areas such as investment strategy and identifying clear target sectors, team building, organisation structures and involving family members. Private FIC, Belgium.
Succession – using examples from other FICs to inform generational transition and education the NextGen, focussing on specific issues such as board composition, leadership, communication and gender balance. Multi-generational FIC, SE Asia
Structures – learning about how families use different classes and types of shares to control listed FICs, also seeking data and insights to inform governance revision for NextGen as well as how other FICs frame, communicate and transmit values. €1+ billion revenue FIC, Germany
Learning – an additional education and intelligence resource to assist family shareholders with strategy oversight and renewal, especially in areas such as values, leadership and governance. Listed FIC, France.
Governance – data, insight and examples to support a strategic plan for group professionalisation, reviewing governance and succession mechanisms, benchmarking against other FICs to aid family buy-in. Diversifying FIC, UK.
Strategy – examples and data from other families to complement a family wealth strategic review linked to a generational transition, examining specific issues such as communication, Impact investing and fostering entrepreneurship in the NextGen. Industrial FIC, Spain.
Fundamentally we see three major benefits of membership:
Existing FICs can network with and benchmark themselves against their peers, learning from the success of others. Unlike so many membership groups and events, the community is not a 'random walk' – in a private, discreet environment family investment companies will meet others like them. The Project has confirmed that FICs exist and have done so for some time as a significant part of the family business universe. What started as a theory based on experience has been confirmed by research.
Want to become a FIC? The Report provides real-life named learning and experience from successful families. Existing families, whether diversified or not, single or multi-asset, may have much to learn from FICs as they face the universal challenges of succession, governance, growth and change. The lessons of history are plain to see if you know where to look.
Shorten the learning curve. The Report contains a potential family business blueprint for multi-generational entrepreneurship. The practices of FICs suggest an important entrepreneurial pathway for the long-term survival and prosperity of family businesses. Some or all of these practices may help families to see the way they do things in a different light and lead them to improve functionality. Even if a family does not want to diversify into new sectors, findings from the Project would argue that all family businesses might think and act like FICs to maintain long-term entrepreneurship. It is not being claimed that becoming a FIC is the only way for entrepreneurial families to sustain themselves, but on the basis of the Project's research it appears to be a successful one.
More fundamentally, families might look to the FIC structure and philosophy with its permanent commitment to the family, rather than to any one member, and to the fused single entity family-as-a-business, rather than any one specific holding, as ones which appear to offer the flexibility and entrepreneurial intent to support the long-term interests of a multi-generational family in business.
It is seen in the Report how if FICs wish to stay the same – family controlled, successful, sustainable – they need to think seriously about embracing change – be enterprising, seek new investments, not fossilise. And it is seen how FIC-controlling families achieve this balance between the past and the future, sameness and change. It is hoped that this unique and exclusive Project – Report plus Briefing – will help stimulate the thinking of families and those who work with them about the strategies and structures they need to develop and employ in their continuing pursuit of multi-generational entrepreneurship.
THE TEAM
Credibility, expertise, experience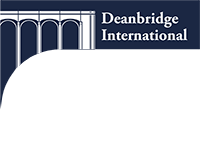 Deanbridge International
The European Family Investment Company Report is published by Deanbridge International (Deanbridge Advisors International Limited), founded by John Learmonth to provide intelligence and research for FICs, family businesses and their advisors.
IESE Business School
The European Family Investment Company Report is published in association with IESE Business School. IESE is the graduate business school of the University of Navarra. It has been at the forefront of management education for 60 years. It provides diverse programmes and courses to develop and inspire present and future business leaders who strive to make a deep, positive and lasting impact on the people, companies and society they serve.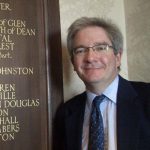 John Learmonth
The Report is written by John Learmonth who has worked with significant business families for over twenty years. He founded Campden Publishing and built it into a leading, global media group in the areas of healthcare and private wealth management. As part of the latter he organised the first conference in Europe for family offices as well as pioneering its provision of conferences and information for family businesses, FICs, significant private investors and their advisors both in Europe and in Asia. During this time, he worked closely with the Family Business Network (FBN) and many individual country family business associations, serving on the Advisory Council of the UK Institute for Family Business (IFB). Since selling Campden he has been engaged in various projects including participating in turnarounds, advising a merchant bank and a family-owned investment holding company. He is a graduate of Gonville and Caius College, Cambridge.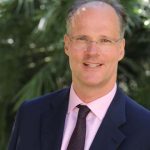 Professor Heinrich Liechtenstein
The report's co-author is Heinrich Liechtenstein who is Professor of Financial Management at IESE where he lectures in the MBA and Executive Programs. He holds a Ph.D. in Managerial Science and Applied Economics from The Economics School of Vienna, Austria, a Master's degree in Business Administration from IESE Business School, and a BSc in Business Economics from the University of Graz. Professor Liechtenstein specializes in entrepreneurial finance, management of wealth and governance of entrepreneurial families. He is co-author of several publications on private equity. His ongoing research in this field focuses on operational value creation in private equity, impact investing and governance of entrepreneurial families. As a consultant, he collaborates with leading families and financial institutions and serves on the board of family-controlled foundations.
A potential blueprint for multi-generational entrepreneurship. The practices of FICs suggest an important entrepreneurial pathway for the long-term survival and prosperity of family businesses.
THE OFFER
Available to family businesses
Membership Package
The membershio package will comprise copies (electronic format) of the current edition of the Report plus any updates delivered to named recipients at each subscriber plus a personal briefing by one of the Report leaders (subject to availability) and our availability for ongoing, reasonable, dialogue during the subscription term
To maximise value from the Briefing, subscribers will be requested to first read the Report and submit questions/topics for discussion in advance. The Briefing will take place via video or voice conference call, or in person if in London, Barcelona or Munich (again subject to availability and any government travel restrictions).
Subscription fee
For subscription fees and full terms please contact John Learmonth – [email protected] or +44 20 7887 2128. Please note there is no other way to purchase this unique package.
We are limiting access to pre-screened families. Only a direct application to John Learmonth can secure a purchase.
Affiliate Membership Package
 A separate, affiliate membership package is available to professional advisors and service providers proposed by FIC members and known by the organisers.
Subscription fee
For subscription fees and full terms please contact John Learmonth – [email protected] or +44 20 7887 2128.
The European
Family Investment Company
Report & Briefing
Sustaining multi-generational entrepreneurship – structures, strategies, war stories
An innovative project delivering essential new data, interpretation and analysis of strategic relevance to family businesses and those who work with them
Apply now to benefit from this unique subscription package.
For the subscription fee and full terms please contact John Learmonth – [email protected] or +44 20 7887 2128. Please note there is no other way to purchase this unique package. We are limiting access to pre-screened families. Only a direct application to John Learmonth can secure a purchase. Acceptance of a subscription application is at our discretion.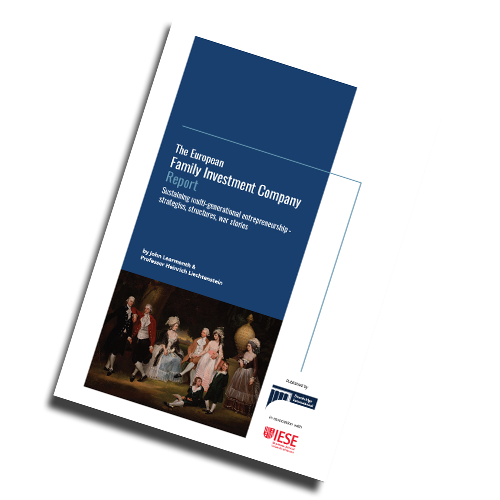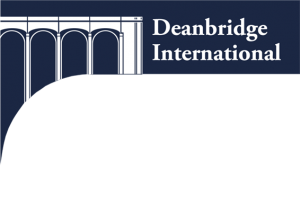 The European Family Investment Company Report is published by Deanbridge International (Deanbridge Advisors International Limited), founded by John Learmonth to provide intelligence and research for FICs, family businesses and their advisors.
Deanbridge also provides consultancy services on an assignment basis.
Our linked company Deanbridge Media. which together with Deanbridge International forms the Deanbridge Group, brings together teams of associates to deliver specialist meetings and publications, with recent work including a Swiss-based meeting for a private group of family offices and an investor meeting with related research report on a growing area of impact investing.
Finally, many people ask why Deanbridge? The Dean Bridge, pictured in our logo and the photographs above, can be found spanning the Water of Leith in Edinburgh. It was one of the last major works by Thomas Telford, the leading civil engineer of his day, and completed in 1832. The bridge was commissioned by John Learmonth of Dean, the great great grandfather of John Learmonth, to link Edinburgh's New Town with the Dean Estate, land he wished to develop as the city expanded to the west.
Photo credit: John Learmonth would like to thank his godson, George Young, for taking the photographs of the Dean Bridge. George is studying at Edinburgh University and, whilst on his permitted daily exercise, took advantage of empty streets during the Coronavirus lockdown to take these photographs in May 2020.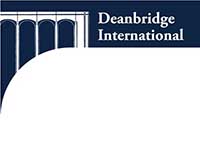 Deanbridge Advisors International Limited t/a Deanbridge International